October is Breast Cancer Awareness Month, an annual campaign to increase awareness of the disease. One in eight women in the United States will develop breast cancer1 which is why breast care management is integral to women's health. Unfortunately, systems and processes can contribute to missed or delayed diagnosis.
LEVERAGING MEDICAL MALPRACTICE DATA
Analyzing CRICO Strategies Comparative Benchmarking System (CBS) helps us understand that failure to diagnose breast cancer can involve clinicians across a spectrum of specialties. Over a 10-year period (2008–2017) there were 659 breast cancer diagnosis-related cases. The three most frequently named responsible services include radiology (41%), general medicine (18%), and ob/gyn (12%).
CBS also helps illuminate where in the process of care gaps or missteps may be occurring. While in some cases care may be compromised by multiple missed opportunities, breakdowns in the process of care most commonly cited in breast cancer diagnosis-related cases involve interpretation of tests (53%), which aligns with radiology being named most frequently. The second most frequent breakdown in the process of care involve ordering of diagnostic/lab tests (37%), followed by patient assessment/evaluations of symptoms (24 %).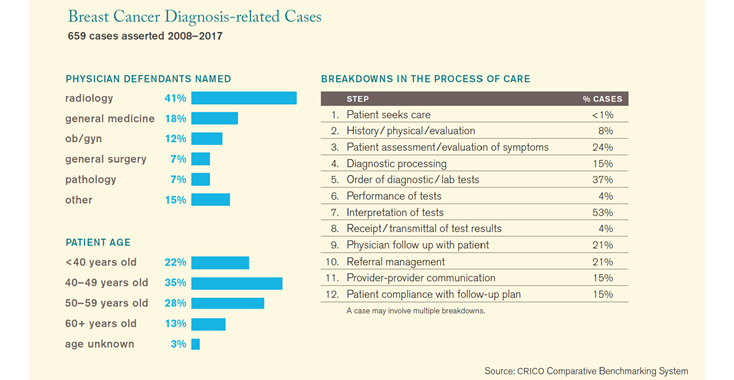 GUIDELINES TO SUPPORT BREAST CARE MANAGEMENT
To reduce the likelihood of events that can lead to a missed or delayed breast cancer diagnosis, a task force of breast care specialists and primary care physicians, coordinated by CRICO, identified the key factors contributing to allegations of mismanaged breast care and subsequently developed the CRICO Breast Care Management Algorithm.
The recommendations within the CRICO Algorithm are based on either a) broadly accepted evidence or b) conservative practices which may lack supportive evidence but represent proven risk management strategies (and pose no risk of patient harm).
The goal of the algorithm is to aid primary care providers at various decision points across three domains of breast health care:
Asymptomatic women eligible for screening
Individuals seeking an assessment of their risks for developing breast cancer
Patients who present with specific breast complaints
All clinicians are invited to download the CRICO Breast Care Management Algorithm.
CLOSED MEDICAL MALPRACTICE CASE STUDY

A 53-year-old patient experienced a 15-month delay in the treatment of cancer after breast biopsy. In this case, which settled in excess of $1.5M, the provider lost track of a critical pathology report, abnormal liver function tests, and orders for a stress test and colonoscopy. Read the full case study on the CRICO website.
1. National Breast Cancer Foundation. Breast Cancer Facts. Accessed October 6, 2020, https://www.nationalbreastcancer.org/breast-cancer-facts