Allegations of diagnostic errors lead to 20 percent of all medical malpractice claims and lawsuits. More than half of those (57%) stem from ambulatory care. According to analysis of the Comparative Benchmarking System (Candello) data for cases closed from 2008-2012, the average payment for such cases was $442,000.
The National Academy of Medicine Report, Improving Diagnosis in Healthcare, stated that "most people will experience at least one diagnostic error in their lifetime, sometimes with devastating consequences." Organizations striving to understand diagnostic error have the opportunity—through analysis of their medical professional liability (MPL) data—to dig deeper into what triggers diagnosis-related claims. It further recommended:
"Professional liability insurance carriers and captive insurers should collaborate with health care professionals on opportunities to improve diagnostic performance through education, training, and practice improvement approaches and increase participation in such programs."
Constellation®, a growing portfolio of medical professional liability insurance and partner companies including MMIC, UMIA and Arkansas Mutual, has long worked to partner and support its policyholders to improve diagnosis. Constellation and its insurance companies began their partnership with CRICO Strategies in 2013 and started using its Comparative Benchmarking System (Candello) for deep analysis of its MPL experience. Through this partnership, Constellation's insurance companies have vastly increased their ability to deliver insights and guidance that support providers in practicing good medicine.
CRICO Strategies' tools and methodology enabled Constellation to identify vulnerabilities driving previously vexing diagnostic failure claims, providing insights guiding development of multipronged education and engagement strategies to support safer practice and reduce outpatient MPL risks.
UNDERSTANDING DIAGNOSTIC ERROR
Constellation Chief Medical Officer, Laurie Drill-Mellum, MD, and her risk mitigation leaders knew their diagnosis-related claims drove an increase in the frequency and costs, but they struggled to understand the underlying factors behind them and provide actionable solutions to their policyholders.
CRICO Strategies' deep coding and the analytic power of Candello quickly confirmed diagnosis-related claims as a primary area of vulnerability and a challenge shared by peers across the country. Diagnostic error as a factor in claims affects providers across multiple specialties, predominantly in the outpatient setting.
Using CRICO's 12-Step Diagnostic Process of Care Framework, Constellation mapped clinical and operational breakdowns along the diagnostic process. The data quickly pointed to a lack of "closed-loop" care team communication processes, revealing that even when providers take the appropriate clinical steps to arrive at a diagnosis, operational failures—delays or failures to schedule a test or referral, mis-routed or unreviewed test results or consult notes, etc.—may still lead to diagnostic errors. This insight—that diagnostic errors were more about systems and processes and less about clinical judgment—broke traditional thinking that an accurate and timely diagnosis is the responsibility of the physician alone.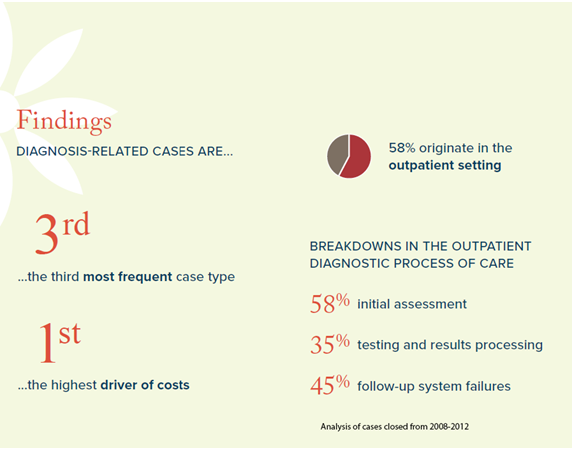 Further, in addition to the analytical framework to highlight specific follow-up system failures, through their partnership with CRICO Strategies, Constellation could now link clinical and operational vulnerabilities with financial losses. Connecting clinical and operational elements with financial data would enable even more effective engagement with C-suite leaders to drive operational change.
DATA-INFORMED ACTION
Leveraging their newfound clarity of the scope, impact, and driving factors behind their diagnosis-related claims, Constellation developed system-focused programming and interventions to support clinicians and the entire care team through the diagnostic process. Among them:
Web-based suite of bundled solutions for preventing diagnostic error
Clinic risk report
Top 10 checklist for preventing diagnostic vulnerabilities
Diagnosis-focused issue of Common Factors magazine
Of its ability to deeply code and analyze it MPL claims through its partnership with CRICO Strategies, Dr. Drill-Mellum says, "We've found such value by looking through the lens of this unique data set, and while it's transformed our perspectives on improving patient care on a local and regional level, we think these data can actually help solve this problem on a national scale. We feel an obligation to share our newfound awareness of this problem on a national stage."
As part of its mission to share its learnings on the national stage, Constellation recently partnered with the Iowa Healthcare Collaborative and the Society to Improve Diagnosis in Medicine on a virtual conference, Working Together to Improve Diagnosis, to highlight the alarming impact diagnostic error has on patients, residents, care teams and organizations.
To learn more about the data insights, interventions, and how Constellation has sustained change, read the full case study:
Related Resources: