Lung cancer is the leading cause of cancer death and the second most common cancer in the United States, according the Centers for Disease Control and Prevention (CDC). One challenge in the diagnosis of lung cancer is that patients may present with different symptoms or may not have any symptoms until it has advanced.
Researchers from Johns Hopkins University School of Medicine and Candello analyzed approximately 55,000 malpractice claims from the Candello comparative benchmarking database to determine how many were attributable to diagnostic error. Among the findings, researchers found the "Big Three" serious misdiagnosis-related malpractice cases involved vascular events, infections, and cancers. Among cancers, lung cancer was the top serious misdiagnosis-related harm. Since the majority of lung cancer malpractice cases result in high-severity injuries, this can drive large total incurred costs.
While any diagnosis may have challenges that could lead to a missed or delayed diagnosis, lung cancer included, there are systems and processes that could support clinicians in the diagnostic process of care. Understanding where vulnerabilities lie can help organizations determine programs to help mitigate potential missed and delayed diagnoses.
THE DIAGNOSTIC PROCESS OF CARE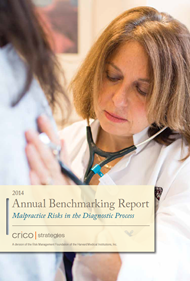 In the 2014 Candello Report, Malpractice Risks in the Diagnostic Process of Care, we examined more than 4,700 diagnosis-related malpractice cases that demonstrate the pitfalls that put patients at risk of a missed or significantly delayed diagnosis. Our analysts aligned the data with the CRICO 12-step diagnostic process of care framework in order to highlight where breakdowns most commonly occur.
The steps along the process of care are segmented into three areas (see below): initial diagnostic assessment, testing and results processing, and follow up and coordination. Within each area are specific steps that make up the 12-steps of the process of care. This enables CRICO to analyze Candello data to determine where specific vulnerabilities lie that might impact diagnoses. These data can provide health care leaders insight as they look for improvement opportunities. The 12-step process of care can be viewed in its entirety on the CRICO website.
Initial Diagnostic Assessment: 58% of cases
This includes the patient's presentation with a complaint, through the physician's assessment, differential diagnosis, and test orders. Factors that trigger malpractice allegations are primarily related to voids in the physician's evaluation of the patient's history and cognitive processing related to presentation, differential diagnosis, and test ordering.
Testing and Results Processing: 29% of cases
From the scheduling, performance, and interpretation of diagnostic tests, through the management of the test results. The factors that trigger malpractice allegations are primarily related to breakdowns in clinical systems for test result management, the cognitive skills related to interpretation, and communication of results to the ordering physicians.
Follow Up and Coordination: 46% of cases
Encompasses decisions made and actions taken after assessment and testing, including consultations and communication. The factors driving malpractice allegations are primarily related to failure to involve specialty consultation and breakdowns in communication among caregivers and between caregivers and the patient.
Recognizing diagnostic challenges and vulnerabilities along the process of care provides an opportunity for more detailed analysis so that health care leaders can understand where to implement mitigation strategies. This might include clinician training or systems improvements that will support clinicians in making timely and accurate diagnoses.
To learn more about lung cancer and how you may support research and awareness of the disease, visit the Lung Cancer Foundation of America website.
Additional Resources