This week marks Patient Safety Awareness Week, a campaign sponsored by the Institute of Healthcare Improvement to encourage learning more about health care safety. While patient safety is on the forefront of our minds everyday, it is helpful to have a week in which we can pause for education to offer—and gain—inspiration from our peers about patient safety efforts.
LEARNING FROM MEDICAL MALPRACTICE CASES TO INFORM PATIENT SAFETY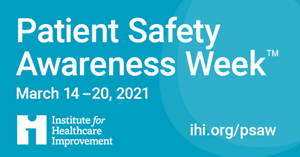 For more than 40 years, CRICO has been coding medical professional liability (MPL) cases to gain insights about what goes wrong and why. Our proprietary process of coding medical malpractice cases captures clinical and legal elements embedded in professional liability cases to accurately pinpoint the individual practice and system breakdowns at the root of the alleged medical error. The insights gained through application of our taxonomy provide clear evidence to drive patient safety initiatives.
Below are examples of how medical malpractice data has been leveraged to inform patient safety initiatives.
CRICO PATIENT SAFETY RESOURCES
In addition to the above examples of how MPL data can be used, CRICO offers a variety of patient safety resources.
Clinical Guidelines to Mitigate Risk
CRICO, the captive insurer of the Harvard medical institutions, has developed decision support tools for its insured clinicians. Guidelines have been developed for obstetrical care, interventional radiology and more. Below are two decision support tools for the management of patients at risk for colon and breast cancer. These CRICO-developed guidelines continue to be well received and are considered key to stabilizing failure-to-diagnose cancer cases and losses.
Download the decision support tools including colon cancer and breast care management:
For a complete listing, visit the CRICO Clinical Guidelines page.
CRICO's AMC PSO
The Academic Medical Center Patient Safety Organization (AMC PSO) strives to act as a national convener of clinicians and health care organizations to promote patient safety.
The AMC PSO makes patient safety learnings available to the public as part of CRICO's ongoing commitment towards improving patient safety across the continuum of care. These learnings can be found in guidelines, papers and Patient Safety Alerts, which can be downloaded. New editions are published regularly and are free and available on the CRICO website.
AMC PSO Publications include:
Closed MPL Case Studies
CRICO has developed a library of closed MPL case studies that are available to anyone to learn from past experiences. They analyze cases from the clinical and claims perspective providing valuable insights to clinicians, risk managers, and hospital leaders.
Visit the CRICO Closed MPL Case Study library.
What are patient safety resources you turn to that others would benefit from knowing about? Share them below or you can join the conversation online using hashtag #PSAW21 or #ptsafety.