Return on investment. ROI. This has always been important in health care, perhaps now more than ever. It's the holy grail. But in the medical professional liability (MPL) world, the impact of predictable variables like lag time (from incident to assert) and jurisdictional variability, or unpredictable variables like runaway jury verdicts make confidently arriving at a dollar-for-dollar ROI of investment in a patient safety or claims management strategy extremely challenging.
But we know that investing in data-informed clinical safety or claims management improvements is a worthwhile investment of limited resources. So, how can we make the case for an investment that will have impact when the ROI may be challenging to measure?
Let's consider VALUE. It can be direct and quantitative, or indirect and qualitative, and varies based on perspective. It can come in the form of a story about overcoming a problem or addressing a risk. Or gaining a foothold through the savvy display and positioning of data with an executive leadership team or board that had never been possible before.
Take these examples:
Data specificity uncovers surprises that enable a more tailored intervention: A large multi-hospital system identifies a comparatively larger volume of events involving shoulder dystocia and uses the potential reduction in harm and financial losses to gain support for skills training
Collaboration with patient safety peers enables direct advice from lived experience: A newly-formed hospital system seeks insight from leaders across several systems participating in the Candello Community, and receives guidance for developing its system-wide structure for patient safety and risk management
Data depth enables shared accountability for change: An organization struggling with providers assigning responsibility to their clinical counterparts (e.g. Surgeons faulting Anesthesiologists, PCPs faulting Radiologists) leveraged data on Primary and Secondary responsible services in their cases to differentiate the prevalence and type of vulnerabilities for each service, enabling them to increase each service line's ownership of improvement efforts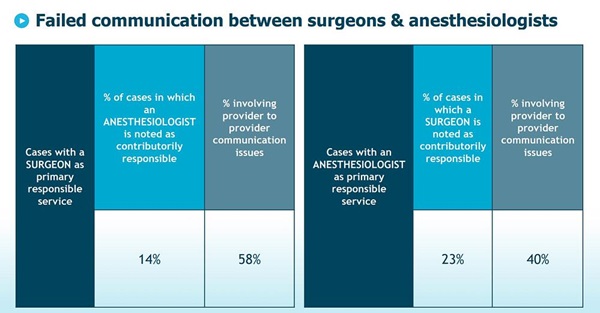 Collaboration with peers elicits change in underwriting practice to address emerging risks: Discussion between several underwriting leaders created awareness of risks associated with increasing use of mid-level providers and prompted local changes in risk pricing
Comparative frequency and indemnity data validates local case "cluster" and enables funding: A community hospital noted a small cluster of cases where the lack of an in-house ultrasound technician contributed to significant harm. While their relatively small number of cases did not provide sufficient data to invest in change, comparative frequency and cost data validated the broader risk of this gap, confirmed that costs and risks (financial, physical, and emotional) of not doing so far outweighed salary costs.
In our 2021 Comparative Benchmarking Report, we plan to explore this concept of VALUE and how it can impact your organization. Whether you sit in an insurance company or a health care organization, whether you are making the case for a change in your clinical practice, or reducing the life cycle and impacts of an MPL claim, there is VALUE in investing in a partnership that provides data and resources for change.
We welcome your VALUE stories and would love to hear from you! Please leave a comment below or email us!