Each year, at Antum Risk, we look forward to reading the annual CRICO Strategies CBS Report. It provides a new lens on risks and vulnerabilities in health care which we can use to inform our business. As soon as we get the report, we begin to make notes about data points and graphs that we can reproduce using member data for a more customized report.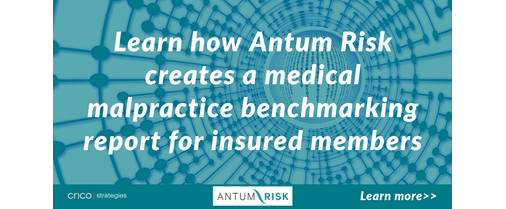 Antum Risk, located in Columbia, SC, provides a variety of risk management services to the health care industry, including a group captive for professional and general liability. We work with our insureds to provide specialized risk management services to assist them in reducing their risks.
Analyzing our members' medical malpractice data is crucial to our business. To accomplish this, we have partnered with CRICO Strategies for more than a decade to leverage its taxonomy to code member cases and analyze the data using their Clinical Risk Intelligence Tool (CRIT). Member data is added to the Comparative Benchmarking System (CBS) which is a national dataset that compares our data against other captive and commercial insurers across the country.
CREATING A BENCHMARKING REPORT
The CBS Report gives us a roadmap to better understand risk on a national scale. Through our partnership with CRICO Strategies, we enhance this report by deeply analyzing member data and comparing it against peer groups within CBS. This is highly valuable to us and our members who want to see their own risk compared to other captives as well as the national landscape. This helps them understand how best to prioritize their risk management efforts.
Our team responsible for creating our report includes different disciplines—claims, finance and patient safety/risk management. This ensures that our top business priorities are taken into consideration as we approach the analysis.
We use the CBS Report as a guide and diligently read the report and identify the data points and graphs we want to explore. We work to reverse engineer them which is only possible because of our deep understanding of the CRICO taxonomy. Next, we run analyses in CRIT that look at our member data as well as Business Objects where we can analyze peer groups from CBS data.
When beginning to build the queries and run reports, I need to ensure that our queries are based on the same codes as those used in the CBS Report. If I can't figure something out, I reach out to CRICO Strategies for guidance and their analysts help ensure I am on the right track.
"Sarah's skills and expertise in CRIT and her in-depth knowledge of our taxonomy is why she is able to produce such an actionable report for her insureds."- Dana Siegal, RN, CPHRM, CPPS, Director of Patient Safety, CRICO Strategies
One thing that we do differently is include expanded case studies with risk mitigation strategies included. Case studies are powerful ways to help tell a story and demonstrate what could be done to minimize risk. Actual cases from our data set are used to create deidentified case studies, which are included in the report.
THE POWER OF COMPARATIVE DATA
This year CRICO Strategies CBS Report analyzed the national data with a focus on the predictability of odds ratios in three key areas. We were interested in looking at our own data using odds ratio in a variety of ways:
Cases closed with indemnity payments
Cases closed with expenses
Cases closed with any payments
We were interested to see that only two of the three top issues—or contributing factors—covered in the CRICO Strategies CBS Report appeared in our top four. Being able to compare our own data to the CRICO Strategies CBS data is so important.
CRICO Strategies CBS Report Top Issues

Our Member Top Issues (based on odds ratios)

Policy & protocol
Patient Assessment
Documentation

Patient Monitoring
Technical Performance
Policy & protocol
Patient Assessment
We were able to drill down into this analysis to better understand our members' risks. This information is then used to develop patient safety and risk mitigation programs for the members. We develop interventions designed to address these issues and work with our insureds on mitigating these risks.
Just as we look forward to receiving the CBS Report, our members look forward to receiving their annual report. Our partnership with CRICO Strategies is a valuable part of our business and it is a true partnership. We know that if we need support with an analysis, they will be there to help guide us.
About Antum Risk
Located in Columbia, SC, Antum Risk provides a variety of risk management services to the healthcare industry. These include group programs for workers' compensation, professional & general liability, and medical stop-loss. We also provide solutions for other property & casualty needs, group and voluntary employee benefits, and contract security.
Antum Risk serves its clients directly and through alliances with best practices companies. Our alliances include Palmetto Hospital Trust, Palmetto Healthcare Liability Insurance Program, Palmetto Healthcare Stop- Loss Program, Aon, Aflac, and Allied Universal.