While communication failures vary along the range of patient encounters, the implications for unsafe care are consistent. Communication difficulties are not isolated to providers lacking "people skills" or patients with language or comprehension deficits. Every mode and system by which patients and caregivers share health-related information is vulnerable to failure
An in-depth analysis about the role communication failures plays in medical malpractice claims found that 30 percent of all claims in the Comparative Benchmarking System (CBS) involve a communication failure. The analysis reviewed medical malpractice cases in the CBS, and was published in the CRICO Strategies CBS Report, Malpractice Risks in Communication Failures.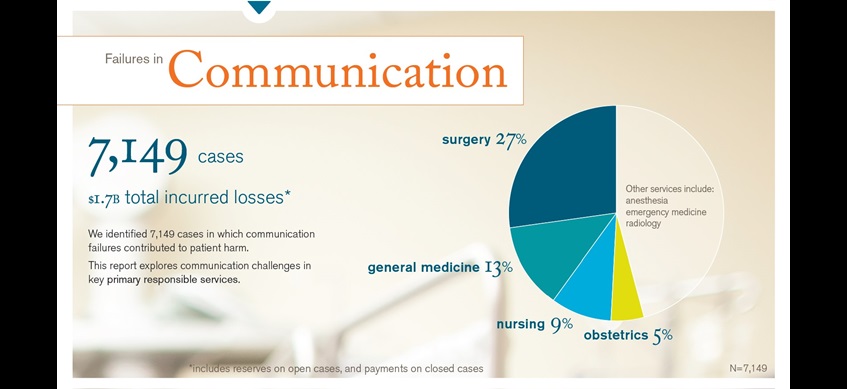 These claims involve communication breakdowns where facts, figures, or findings got lost between the individuals who had that information and those who needed it. With a special focus on General Medicine, Obstetrics, Nursing, and Surgery, this Report shines light on miscommunication and identifies specific opportunities to improve skills and systems to mitigate those risks.
"An important takeaway from our CBS Report, Malpractice Risks in Communication Failures, is that when a claim has provider-provider communication failures, it is more likely to result in payment than cases with provider-patient communication issues. The data in this Report look at specific drivers of those breakdowns which offers organizations actionable intelligence to implement solutions to mitigate those risks." — Mark E. Reynolds, President and CEO, CRICO
WHAT WORKS
Time spent developing the techniques and habits that improve communication during encounters with patients and exchanges with colleagues is considerably less stressful than time spent defending care complicated by communication failures.
Timely and accurate documentation helps providers care for their patients, protect their reputations, and minimize their risks. Assessing and enhancing communication skills, as individuals and as teammates, helps everyone involved provide the best and safest care possible.
One of the most important of those communication skills is recognizing when critical information has not been conveyed to everyone who needs to know, or has not been confirmed by those to whom it was directed. Ensuring that the act of communication has been successful is everyone's responsibility.
Several efforts to improve communication are discussed in the CBS Report. They include:
Close-the-loop referral improvement program at Atrius Health
Labor and Delivery Safety Drills at San Francisco General Hospital
I-PASS handoff program
Observing and analyzing communication in the OR was a program supported by Hospital Risk Advisors (formerly Hospitals Insurance Company)
Empathy and Relational Science Program at the Massachusetts General Hospital
Informed Consent improvements at Montefiore Medical Center
MyICU, a program developed at Boston's Beth Israel Deaconess Medical Center
See data finding highlights from the report or download it here.