This time of year is busy for organizations as they prepare to address their priorities for the coming year. Health care systems, captives and commercial insurers are all looking ahead to 2021 and trying to anticipate their risks and put solutions in place to neutralize them. As I speak with Chief Risk Officers and Vice Presidents of Risk there are three major themes they are anticipating, or reacting to:
They need to get out in front of their claims by understanding their risk "hot spots"
They seek to reduce their risk of harm and loss by aligning their claims and patient safety efforts
They want to know when a claim is part of a trend
HOT SPOTS
At the most fundamental level, risk officers are telling me they need accurate answers to one critical question: "Where are we most vulnerable, and what can we do about that?"
This has been echoed in our most recent CBS member survey. National organizations who contribute their medical professional liability data (MPL) to the CRICO Strategies Comparative Benchmarking System (CBS)—or CBS Members—reported that the most important insights gained from CBS data are clinical insights related to an organization's own MPL claims data (79%) and national comparative data (64%).
Claims data—enriched by a rigorous taxonomy and the inclusion of the relevant medical data from the electronic medical record (EMR)—can direct the concerned executive precisely to the organization's "hot spots" or risks. Questions of where the risk resides, the frequency, and the clinical severity can be easily identified.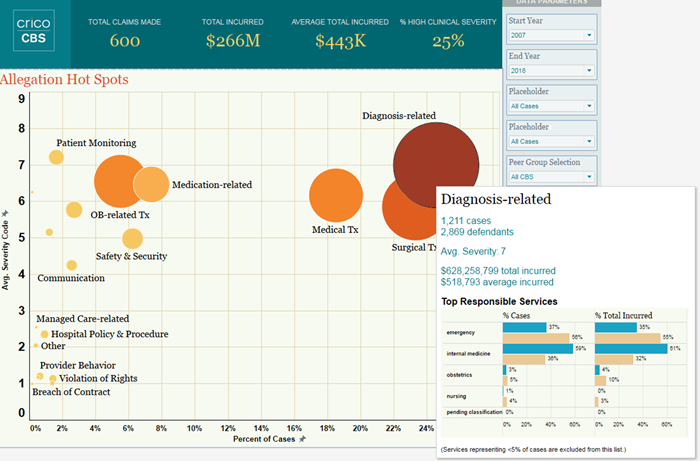 Screenshot of the CBS Dashboard for Allegation Hot Spots
ALIGNMENT
There are health care systems that are not leveraging claims data as a source for patient safety intelligence. They may not have access to it or perhaps, they may perceive their claims as rare, one-off occurrences that don't point to common structural, or process deficiencies. But these seemingly rare incidences actually correspond to the more common adverse event data.
Classic process improvement research reveals that every catastrophic incident represents hundreds of near misses, and thousands of occurrences that go unreported. So, these highly documented, litigated and studied claims events offer incredibly rich insights for ongoing patient safety work.
The challenge then becomes structurally aligning the claims team with the patient safety team. But whether the organization is a commercial carrier or a health care system, our members have shown that forging partnerships, and sharing data across these two teams, is both financially savvy and transformational to risk reduction.
TRENDING
One of our CBS Members, UMass Memorial Health Care, Inc., noticed a signal in its medical malpractice claims of testicular torsion cases. As a CBS Member, it has access to national comparative data so it compared this experience to national peers using CBS data. UMass was an outlier in testicular torsion outcomes, compared to peer academic medical centers across the country.
The claims department and risk management department worked together to dig into the contributing factors of these cases—as coded using the CRICO taxonomy. They saw a pattern among these cases that the patients arrived at the ED when an ultrasound technician was not available to provide immediate services. This caused delays in accurate diagnosis and treatment.
With this comprehensive understanding of what was driving these claims, coupled with the data of the defense and indemnity costs, the chief medical officer was able to urge hospital administration to move to full-time, in-house ultrasound services. The data proved the case that 24/7 onsite technician coverage was more cost effective than the cost of the MPL claims, not to mention the improved patient experience and outcome. Since this change, UMass has not had one testicular torsion case.
Whether it be unsettling medical patterns, or growing indemnity payments, the ability to survey the broader health care landscape for trends provides the risk executive confidence that their next big project is rooted in a reality that is larger than their own organization.