A hospital emergency department (ED) is typically a busy environment. The variety of patients and injuries that present at the ED, the responsible services involved in delivering care, the numerous diagnostic tests ordered, all present the risk for things to go wrong.
Health care leaders gain insights about potential patient safety risks by analyzing medical malpractice data. An organization may have access to its own medical professional liability (MPL) data or may look to national datasets to understand trends.
Organizations that code and contribute their data to the national Candello Comparative Benchmarking System can gain clarity about risks, patient harms, and financial loss at their organizations. And they can also benchmark against peers or look at national trends of the more than 450,000 claims in Candello.
ED-RELATED MPL CASES
In an analysis of medical malpractice cases in Candello that closed 2015–2019, Emergency Medicine is the fifth most frequently named responsible service (9%) and comprises 12% of gross indemnity paid.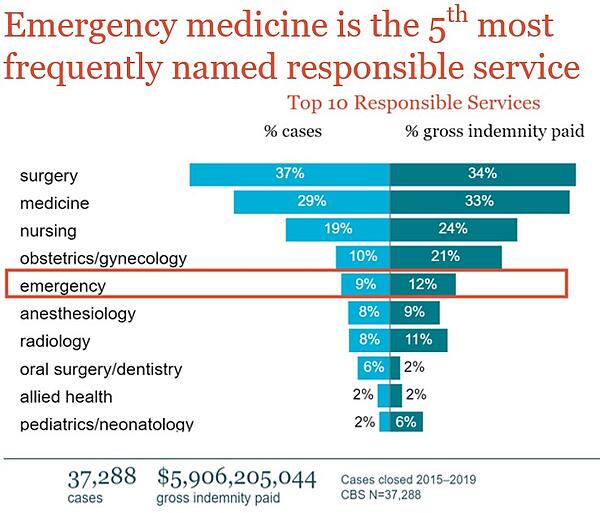 ED-RELATED MPL CASES: TOP ALLEGATIONS
Analyzing the ED-related cases—cases in which care was directed by or through the emergency department—we can better understand what is occurring, who is involved, and what the contributing factors are.
The types of events that occur in this setting that result in allegations of medical malpractice include diagnosis-related (56% of cases) as the top allegation, followed by medical treatment (27% of cases).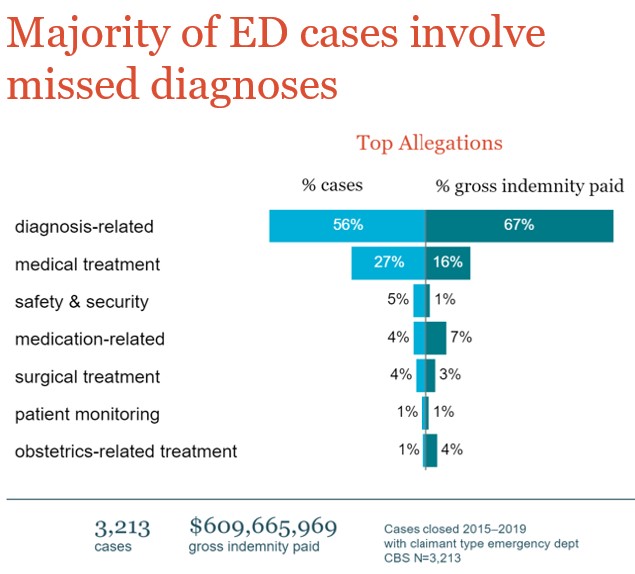 ED-RELATED MPL CASES: TOP RESPONSIBLE SERVICES
Understanding the responsible services named in the allegation provides information about who to involve developing an intervention. Including those from the frontline who will be implementing the interventions will bring valuable insight into the development of those solutions. Providers who best understand and experience the vulnerabilities can help identify potential work-arounds or discuss why certain steps may not be practical. Their contributions at the development stage help to create clearer pathways to implementation and adoption.
While the majority of clinicians named as the primary responsible service in ED cases are emergency medicine physicians (63%), as shown below, radiology is named as the primary responsible service in 11% of the cases, followed by nursing (9%).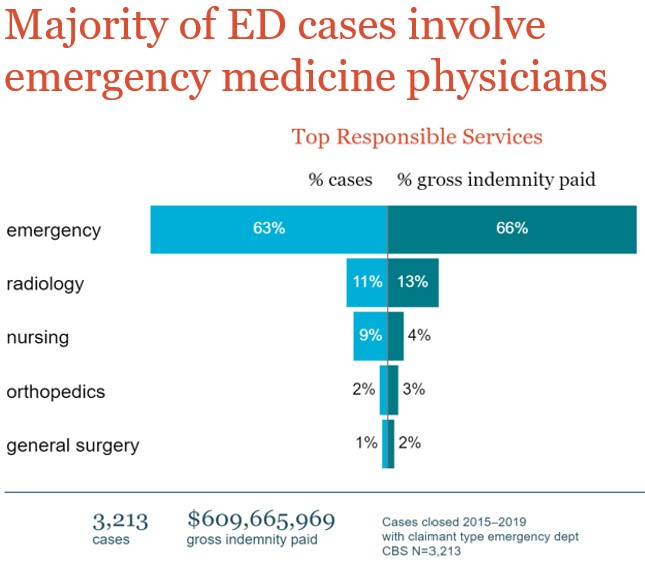 ED-RELATED MPL CASES: CONTRIBUTING FACTORS
A unique aspect of Candello data is the deeply coded contributing factors. These are identified through the highly governed coding process in which nurse coders read the medical record and the legal files (depositions, expert witness testimony, etc.) and apply the taxonomy based on what happened, and what should have happened. The contributing factors provide insights into the "why," in other words, they help shine a light on the drivers of risk and harm.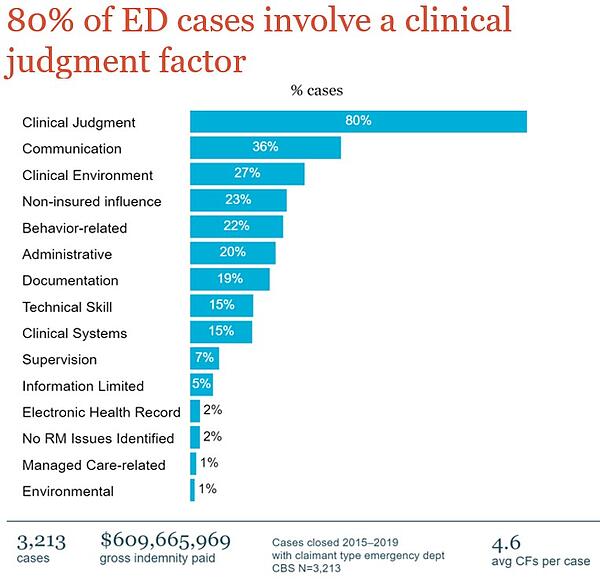 We can further identify where along the process of care missteps occur. In ED cases that involve a missed or delayed diagnosis, 65% of the cases involve a test ordering issue.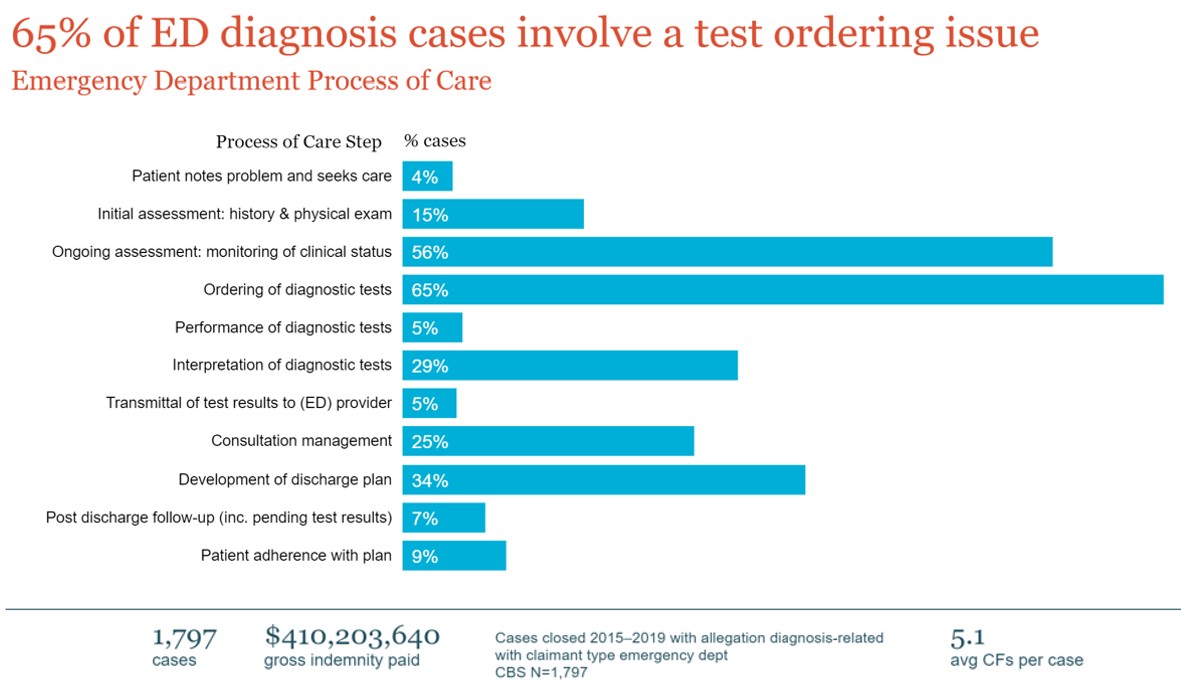 Health care leaders are poised to enhance patient safety when they understand their organization's risk profile, review (and compare to) national trends, and include relevant staff in the development of interventions. Learn how Candello Can Help You
Data analytics provided by Russell Howd, Data Analyst, CRICO