The recent Candello Report, The Power to Predict, analyzed national medical malpractice data to gain insights on which factors make malpractice claims more likely to pay. The analysis found that the odds of a medical professional liability (MPL) cases closing with an indemnity payment increase 85% when a patient assessment failure occurred.
The analysis used data from the Comparative Benchmarking System (Candello) which represents more than 30 percent of all US medical malpractice claims and—uniquely—includes open and closed claims and lawsuits, as well as paid and unpaid cases. The rich coding of cases in Candello enable business and clinical leaders to gain insights into risks and vulnerabilities that impact patient safety and could lead to an allegation of medical malpractice.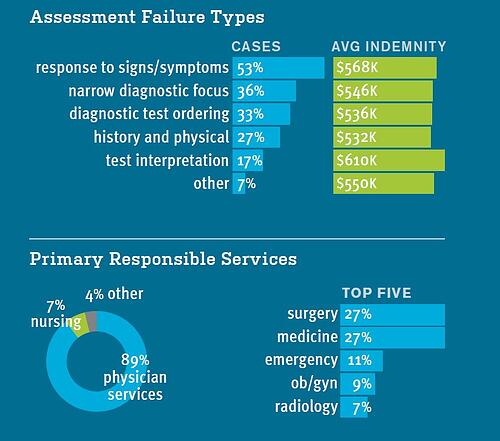 CASES INVOLVING PATIENT ASSESSMENT ISSUES
Candello uses 18 detail-level codes to delineate breakdowns in patient assessment, demonstrating the complexity of the clinical process and the widespread vulnerability to misunderstanding the patient's status. Assessment errors are at the root of a high proportion of high-impact adverse events. The analysis found that the types of assessment failures contributing to these cases involved:
Response to signs/symptoms (53%)
Narrow diagnostic focus (36%)
Diagnostic test ordering (33%)
History and physical (27%)
Test interpretation (17%)
PRIMARY RESPONSIBLE SERVICES NAMED IN CASES WITH ASSESSMENT FAILURES
Patient assessment missteps occur more frequently in the ambulatory settings, but inpatient cases account for a large portion of the total indemnity incurred. Practitioners in medicine services are most vulnerable, especially during the diagnostic process (and particularly in the diagnosis of cancer). The primary responsible services most frequently named in cases with assessment failures include:
Surgery (27%)
Medicine (27%)
Emergency (11%)
Ob/Gyn (9%)
Radiology (7%)
For the complete analysis and to learn about interventions to help reduce the occurrence of malpractice cases involving inadequate patient assessment, download the full report, The Power to Predict.