As a hospital or health care leader, are you aware of what your organization's specific policy or protocol vulnerabilities are? Do you have gaps in your policies, or are they not being followed?
The recent Candello Report, The Power to Predict, analyzed national medical malpractice data to gain insights on which factors make malpractice claims more likely to pay—and how much. The analysis found that the odds of a medical professional liability (MPL) case closing with an indemnity payment increase 145% when a policy/protocol breakdown has occurred during care or treatment.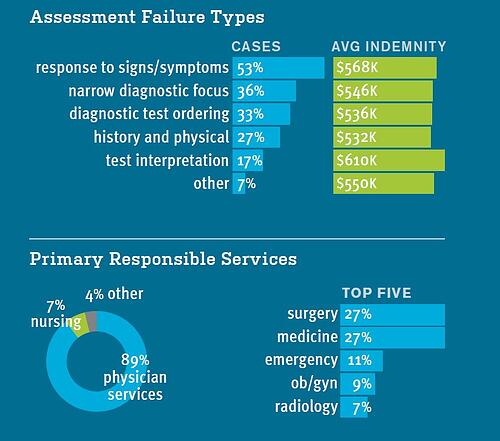 The analysis used data from the Comparative Benchmarking System (Candello) which represents more than 30 percent of all US medical malpractice claims and—uniquely—includes open and closed claims and lawsuits, as well as paid and unpaid cases. The rich coding of cases in Candello enable business and clinical leaders to gain insights into the specific risks and vulnerabilities that impact patient safety and could lead to an allegation of medical malpractice.
MISSING VS. NOT FOLLOWING POLICIES/PROTOCOLS
Most cases with a policy or protocol breakdown involved a policy or protocol not being followed (68%). These cases generally reflect factors about the work environment or faults within the policy's design. Organizations need to work within a just culture framework that looks beyond the individuals to fully understand why certain policies are sidestepped.
Cases that cited a need for a policy/protocol occurred less frequently (34%) but had a higher average indemnity payment associated with them. These cases involving an organization's failure to establish a clinically pertinent policy generally reflect a broader need to clarify standards for communication or evolving issues. Interventions to look at an organization's overall policy processes can pre-empt claims associated with policy deficits.
PRIMARY RESPONSIBLE SERVICES INVOLVED IN MALPRACTICE CASES CITING POLICY/PROTOCOL BREAKDOWNS
Understanding if certain services or settings are frequently cited for policy violations will help you determine where to focus some of your mitigation efforts.
In general, cases in which a failure to have or follow a policy/protocol was a key contributor are more likely to derive from inpatient care. Nursing was the most common responsible service (36%). Cases were often complicated by a caregiver unaware of or failing to follow existing policies/protocols. Often, these reflect inadequate staffing, a lack of training, or a practice culture inappropriately tolerant of workarounds or loose compliance.
Your steps for interventions to reduce this risk will differ when addressing the absence of a needed policy versus adherence to established policies or protocols. For the complete analysis and key considerations to help reduce the occurrence of malpractice cases involving policy or protocol-related breakdowns, download the full report, The Power to Predict.