In recent years, states have begun to broaden nurse practitioner's (NP) and physician assistant's (PA) scope of practice. Last spring some states passed temporary expansions during the pandemic, and this year a few have passed legislation that makes those temporary expansions permanent, as Massachusetts has done.
We are often asked if our Comparative Benchmarking System (Candello) data can offer insights about the medical malpractice implications of expanded practice for NPs and PAs. Analyses we have conducted show that there is little justification for alarm. However, insights gleaned through the contributing factors indicate that there are opportunities to mitigate potential risks as NPs and PAs increase their practice volume and scope.
The following is excerpted from an analysis CRICO conducted and published in the study, Investigating MPL Vulnerability for the Institutions that Employ and Insure NPs and PAs, in the Aon/ASHRM Hospital and Physician Professional Liability Benchmark Analysis, October 2019.
FINDINGS
To see if the expanded liability exposure has triggered an increase in medical malpractice allegations against NPs and PAs, CRICO conducted an analysis of 110,000 MPL cases from across the U.S. The Candello database was queried for cases in which a NP or a PA was a named defendant: either alone, with another provider, or with the insured organization. Both cases opened and cases closed from January 1, 2008, to December 31, 2018, were analyzed.

While the cases naming an NP or PA (often with co-defendants) represent a small portion of all MPL claims and suits, we do see an upward trend from 2008-2018 both for cases involving NPs and cases naming a PA. As measured by defendants in all Candello cases, NPs showed an upward frequency trend, while PAs were unchanged. Most of the time (72% of their cases), NPs and PAs involved in an MPL case are named along with a co-defendant. Physicians are named alone in 49% of cases.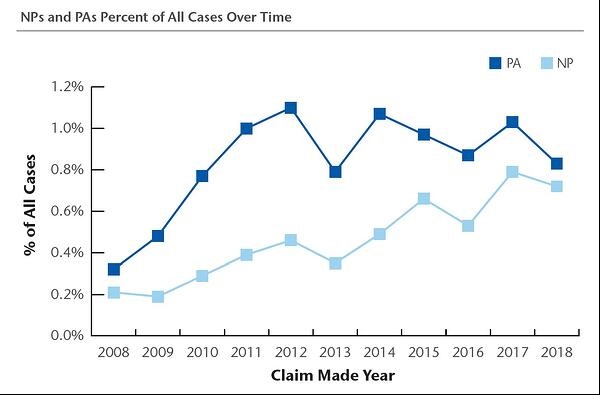 Nearly half of all MPL cases involve care in the (non-emergency) ambulatory setting; NPs and PAs have comparable exposure. Their primary vulnerability in ambulatory cases is diagnosis-related events leading to severe injury (or death). For NPs, 43% of their ambulatory setting cases are diagnosis related, and 47% of those involve high-severity injuries.

Specific to the Emergency Department (ED), which reflects one of the more prominent settings frequently employing PAs, a greater share (15%) of PA MPL cases stem from care in the ED than is seen for MDs (6%). Comparably, 10% of NP cases occur in the ED.
It is important to note that both NP and PA often involve high-severity injury events across all hospital settings. Forty-nine percent of PA cases and 59% of NP cases are high-severity injury events (73% of inpatient cases naming NPs are high severity).
The key takeaway is that, currently, NPs and PAs reflect an extremely small impact on overall MPL exposure: less than 2% of cases naming a clinician involve an NP or PA (and the vast majority of those close without a payment). Indicators that NP and PA cases often involve diagnostic errors merit further attention to opportunities for skill and systems improvements throughout the diagnostic process of care.
CONTRIBUTING FACTORS
Access to the details of deeply-coded cases in Candello enables us to discern key care-related factors associated with each MPL claim or lawsuit. Specifically, these are the actions (or inactions) that align with missteps, miscommunication, and missed opportunities associated with an adverse outcome, patient injury, and allegation of malpractice. At the detail level, contributing factors help pinpoint tactics for reducing the risk of a similar cascade of events.
For all three clinician groups (NPs, PAs, and MDs), failure to appreciate and reconcile relevant signs, symptoms, or test results and delay in ordering a diagnostic test are a top contributing factor.
For NPs, other top contributing factors include:
A failure or delay in obtaining consult/referral
Failure to establish differential diagnosis
For PAs, differential diagnoses and referral issues are also common, as well as:
Supervision
Premature discharge
For all clinicians, miscommunication regarding the patient's condition is commonly cited.
For additional insights from this study, including additional contributing factors, case examples, and mitigation strategies, the complete study is available for download, with permission by Aon plc, on the CRICO website.
Citation for the Full-text Article
Hoffman J, Wang F. Investigating MPL vulnerability for the institutions that employ and insure NPs and PAs. In: Aon/ASHRM Hospital and Physician Professional Liability: Benchmark Analysis, October 2019. 20th Anniversary Edition. Aon plc and American Society for Health Care Risk Management (ASHRM); 2019: 18–26.
Additional Reading