In recent years, some states have broadened nurse practitioners' (NPs) and physician assistants' (PAs) scope of practice. With this change, as well as the increased use and role expansion of NPs and PAs during the COVID-19 crisis, there is a growing interest in what the implications might be on clinical practice—or patient safety—as well as medical malpractice, specifically underwriting and claims management.
To better understand the risks and vulnerabilities, we have run multiple queries on our national Comparative Benchmarking System (Candello) data to learn more. As it specifically relates to the topic of NPs and PAs, we can analyze different aspects such as:
Is the rate of NPs and PAs named in a medical malpractice claim changing?

How does the rate of NPs and PAs named in a medical malpractice claim compare to the rate of physicians named?

Are there any emerging trends related to NPs and PAs?

Are there implications for underwriting or claims management in how they underwrite and/or defend these professionals?

What are the clinical risk mitigation opportunities to reduce medical malpractice claims involving NPs and PAs?
WHAT DOES THE DATA TELL US?
Growth rates of licensed NPs and PAs in the United States, as reported by professional organizations for the five-year period ending in 2019, were 41% for NPs and 37% for PAs. As of December 31, 2019, total licensed NPs equaled 290,000 and PAs 140,000.
Licensed Nurse Practitioners and Physician Assistants

in 2019 Compared to 2014

| | | | |
| --- | --- | --- | --- |
| | 2014 | 2019 | % Change |
| Nurse Practitioners Licensed 1,2 | 205,000 | 290,000 | 41% |
| Physician Assistants Licensed 3,4 | 102,000 | 140,000 | 37% |
Candello data enables us to look at this broadly or drill down into a specific area of interest. In a recent review of these practitioners, growth and claim trends were analyzed. In a review of nearly 100,000 cases* in the Candello database, NPs and PAs are most often named as a defendant alongside their physician colleagues (with or without the organization named).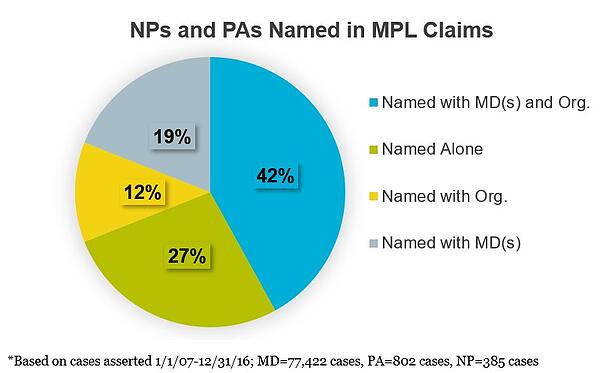 On our upcoming member Candello Underwriting Study Group call, a group comprising underwriting professionals from across the country and Puerto Rico, we will discuss this topic. We have worked with our data analysts to see what our national Candello data show and will explore this topic in more depth on the call.
Candello Members who missed the call on August 18 at 1:00 PM ET and can learn more about the call in the online Candello Community.
Resources