An external assessment can help a hospital or health care system get the full view of how its organization's culture helps—or hinders—its efforts to create a successful patient safety strategy. The assessment helps leaders understand how risk management structure and leadership style can impact safety culture by uncovering gaps between leadership intention and staff/provider perception that diminish engagement in patient safety efforts.
LEVERAGING RISK ASSESSMENTS
While there are tools and services that enable an organization to conduct its own risk assessments, sometimes having a third-party assess the environment with unbiased perspective can help an organization gain insights. In addition, a third-party, in-person clinical or organizational risk assessment can provide a customized inquiry tailored to their particular needs and vulnerabilities that an on-line survey or assessment may not offer.
Candello has conducted Risk Assessment and Plans (RAPs) for more than a decade and has developed an approach to get at the root challenges and opportunities an organization may encounter. Through in-person interviews with a broad cross-section of the organization—from senior leaders to frontline staff—the RAP identifies the range of organizational challenges from clinical vulnerabilities to structural inefficiencies to the often unspoken but always powerful cultural and leadership influences. All this, combined with document and data reviews, provides the organization with a foundation for understanding its risk, as well as an individualized blueprint for addressing it.
The CRICO Strategies RAP examines the three dimensions of a model Patient Safety Profile: Structure, Culture, and Leadership, and identifies and measures the gap between: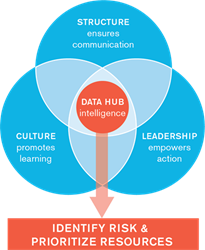 Expectation and Reality: an organization's goals and vision compared to its actual current state
Intention and Perception: the message and expectation sent by leadership; and the message that is heard by staff and providers
Indicators and Action: an organization's patient safety data, along with national data (like Candello), can either confirm the existing clinical challenges, or reveal broader patient safety themes and validate patient safety initiatives
HOW A SUBURBAN COMMUNITY HOSPITAL LEVERAGED A RAP
After acquiring a suburban community hospital and with plans for continued growth, Beth Israel Deaconess Network engaged Candello to conduct a Risk Appraisal and Plan (RAP) to understand and address the patient safety implications of ongoing expansion.
The RAP was a three-month project that leveraged one-on-one interviews and focus groups with a cross-section of leadership and front line staff and clinicians from the network. The purpose of these interviews was to gain a validating "view from the front lines" and systematically investigate key themes related to each site's ability to deliver the safest care possible, and successfully integrate care in the ambulatory setting and across the growing BID network.
Strategies consultants explored three key dimensions of each entity's patient safety profile: structure, culture, and leadership.
Armed with insights from nearly 200 interviews across the system, Candello identified individual strengths and opportunities at each network location, and opportunities for enhanced collaboration and resource sharing across the network.
"As a result of our enterprise-wide RAP, we recognized opportunities to work collaboratively with patient safety leaders across our enterprise to develop clinical best practices, conduct and share culture surveys, and standardize our approach toward event reporting. We now meet monthly with Chief Quality Officers, and Directors of Quality, Risk and Patient Safety across all the organizations within our "family." As a result, we have learned a lot from each other and are developing stronger working relationships among the hospitals as we focus on strategic efforts to improve patient safety across the enterprise."
—Patricia Folcarelli Director of Patient Safety & Health Care Quality Beth Israel Deaconess Medical Center
As a result of the assessment, Candello recommended that BID Network leaders:
Prioritize improvement of safety culture at one particular network site, improving patient safety reporting and energizing the community in safety and quality efforts,
Increase physician engagement in quality and safety at one particular network site, and
Develop a systematic, coordinated, continuous approach to patient safety surveillance and education across the enterprise.