As data and analytics rapidly advance, the common phrase "you don't know what you don't know" will simply not make sense anymore. Medical professional liability (MPL) data is a powerful tool that provides practical insights to health care leaders. Leveraging these insights, leaders can identify emerging risks, make data-informed decisions, and direct limited resources to improve patient safety. In other words, you can know what you need to know.
IS ALL MPL DATA CREATED EQUAL?
Most medical professional liability insurers have access to some level of data. However, several factors may impact the reliability and usefulness of that data—and therefore the practical business and clinical value. For example some things to consider include:
What information is coded?
Working with a data set that captures legal claims information and details from the medical record enable the analyses to be leveraged for business and patient safety/risk management purposes. By coding the clinical contributing factors, an organization can understand why alleged events occur.
Another benefit of MPL data is that the financial outcome of cases is 100% certain and accurate to the dollar. This can help understanding financial impacts whereas many quality or safety data sets, while valuable, rely on estimates of cost and loss in order to understand the business impact.
Is the taxonomy updated and governed?
Using a governed taxonomy that advances to capture new and emerging clinical practice will ensure that emerging risks are identified. An evolving taxonomy enables data users to ask and answer more questions over time with greater specificity and sensitivity.
Additionally, taxonomy governance often includes an audit process to verify that it is applied uniformly ensuring data reliability.
How large is the data set?
If an organization only has access to its own data—especially malpractice claims, which are less frequent than adverse events—it might be too small in volume to offer statistically significant analyses. Leveraging a larger volume of cases through a third-party could help identify when a trend is a trend as well as provide the opportunity to benchmark against national peers.
HOW A CAPTIVE INSURER LEVERAGES MPL DATA
Mark Reynolds, president and CEO of the captive medical malpractice insurer to the Harvard-affiliated teaching hospitals, relies on our national comparative benchmarking system (Candello) data to inform him of clinical, financial, and legal trends within our own organization as well as developing national trends.
As Mark Reynolds stated in this blog post:
In our own work, we rely on the statistical power of Candello to look deeper into claims data and gain valuable insights. These insights are used to:

Target our patient safety risk reduction efforts
Sharpen insurance pricing to closely reflect exposure
Make informed underwriting and coverage decisions
Determine how to allocate claims management resources more effectively
The deep analysis of medical malpractice claims is possible due to the highly governed Candello Taxonomy that transforms data from the medical record and legal file revealing trends and insights. The proper care and feeding of the Candello Taxonomy—with infrastructure and governance, and a continuous process of input and feedback from CRICO and Candello Members—ensures that it has the "sensitivity" and "specificity" to make Candello data useful and reliable.
MPL DATA IN ACTION
Each year Candello publishes a report that analyzes Candello data which comprises 450,000 claims representing more than 30 percent of all US medical malpractice claims from captive and commercial insurers.
The most recent report, The Power to Predict: Leveraging Medical Malpractice Data to Reduce Patient Harm and Financial Loss, identifies which breakdowns in clinical processes are the strongest predictors of indemnity payments in malpractice cases.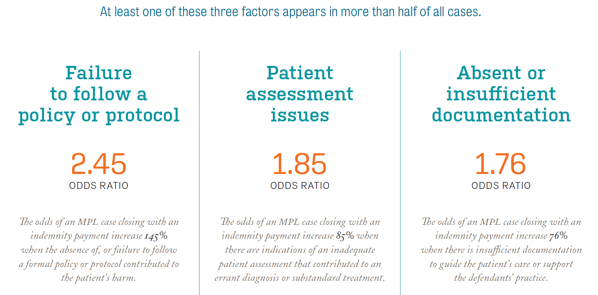 This Report focused on which factors make malpractice claims more likely to pay—and how much. This is possible for two main reasons:
Candello data includes paid and unpaid claims,
Candello data includes contributing factors that codify issues that have statistically significant impact on case resolution.
I encourage all medical professional liability insurance leaders and health system executives investing in reducing patient harm and financial loss to read this Report and think about how you can use predictive analytics with your data. Medical malpractice data has traditionally been leveraged for patient safety and loss prevention. But, if you have a large enough data set, applying predictive analytics is a powerful tool to support your core businesses of underwriting and claims management, too.